POOL  HEATING
Marbella Pools offer a wide range of heating systems to suit all needs and budgets. Whether it's a small plunge pool or large community pool we have the heating solution for you.
Our heaters are simple to operate  –  just set the thermostat to the temperature that you want, let the heater do the rest and enjoy the warm water. Our heaters have a high output and low energy consumption meaning that they are one of the most economical ways to heat your pool. Why have a beautiful swimming  pool that can only be used in the warmer months of the year, when you enjoy the warmth and comfort of a heated pool all year round.
Even if you don't live in Spain all year you can still benefit from a heater. Having a heated swimming pool can greatly increase the rental potential of the property during the colder months of the year.
MANUAL  COVERS
A solar blanket with a manual roller can allow the pool to be easily covered and uncovered whenever you want to swim. The roller is on wheels so that it can easily moved away from the pool edge and stored away whenever it is no longer needed.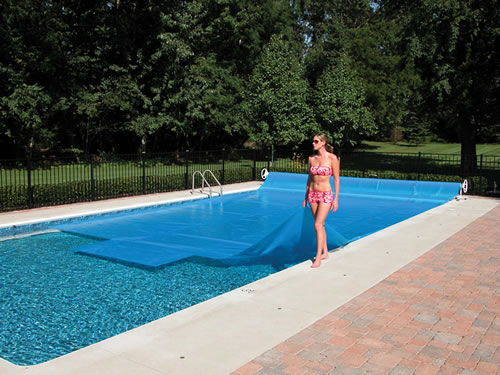 AUTOMATIC  COVERS
Using a cover on your heated swimming pool will greatly reduce heat loss and evaporation increasing the efficiency of the heater and helping to reduce running costs.
Our range of automatic pool covers can be easily opened and closed with just a simple push of a button, turn of a key or even by remote control. The controls can also be locked should you want to close the pool and prevent it from being used.
The cover slats come in a range of colours, both opaque and transparent. We can also offer a solar version that can increase the water temperature by  5ºc to 7ºc. Made of hard wearing  polycarbonate, the slats are resistant to impact and  the high temperatures of Spain.
Evaporation can be a big problem with indoor pools. An automatic cover can reduce the evaporation by up to 80%, greatly reducing air humidity together with the use of water and chemicals.
The covers can be installed above ground at the pool edge in a sun resistant cabinet or, if you prefer, they can be installed in-ground or even on the floor of the pool itself. The covers are made to measure and can be adapted to cover all shapes of pool, including those with an irregular design.