Pool and Community Maintenence
Private Pools
To ensure that your pool is kept in a clean and healthy condition it is important that it receives regular maintenance, especially if it's getting a lot of use. We can provide professional pool care to ensure that the pool is clean, and chemically balanced all year round.
Our experienced maintenance team will clean the swimming pool, pumps and filters, seasonally adjust timers, monitor any heating and check chemical dosing and salt systems. The chemical levels are tested and perfectly balanced, an important factor in avoiding problems such as dry skin, eye irritation, murky water and algae problems. We clean the pool all year round so that the pool is ready to use whenever you want to swim, whatever the season. If you're planning a visit from abroad and want your pool warm we can turn the heating on in advance so it's ready to jump in as soon as you arrive.
Looking after your pool can seem a bit daunting and a bit of a chore. With our regular visits you no longer have to wonder why your pool water just never looks quite right, is it safe to swim in or risk handling nasty chemicals such as chlorine or acid. Just leave those things to us and get on with enjoying your pool.
Community Pool Maintenance
With very high bather loads, especially in peak season, community swimming pools need specialised maintenance. A lot of swimmers means they need a lot of attention, frequent visits and perfect chemical levels at all times.
The regulations for community pools are very strict and specific, covering a wide range of elements:  pump room equipment, pool cleanliness, correct water chemistry and much more besides. Pools can get a visit from an inspector at any time who will check to see that the pool complies with these rules. Often the regulations can be hard to understand and even harder to follow, so the maintenance should really be carried out by people who know what they are doing.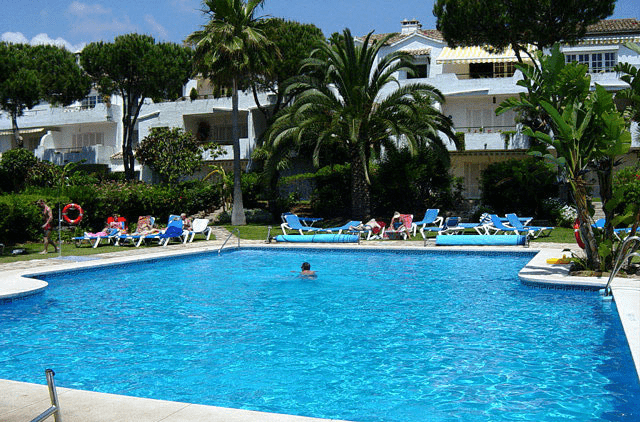 Marbella Pools have many years experience dealing with the complications of maintaining community pools. With our understanding of the regulations, professional cleaning, specialised chemical analysis equipment and technical support we can help you keep your pool, not only looking great, but legal too.